Errors with Backup
When Scheduled Backups are enabled, the app displays a notification after each successful backup with information about how many messages / call logs were backed up and failed.
If you are not getting this notification, then the scheduled backups are not working. Here are some potential ways to fix this problem:
Samsung Phones
For newer phones running Android 10 and above:
For older phones, running Android 9 or older, check if you have any power saving restrictions on the app being applied by the phone. To check, open the Battery screen from Phone Settings and see if it shows anything like the screenshot attached. If so, tap on the Details button at the bottom and then look for SMS Backup & Restore in the list and disable power saving for it.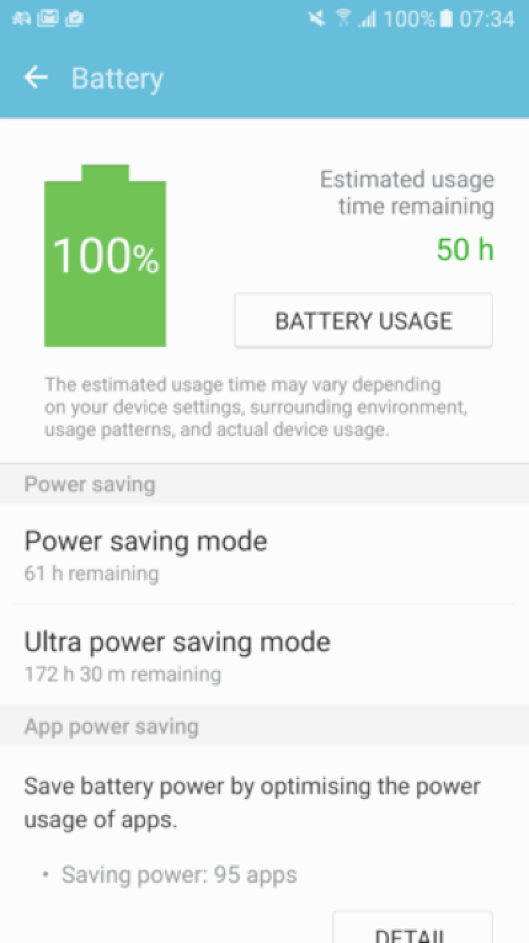 Huawei Phones
Change settings as follows: Settings> Apps> SMS Backup & Restore > Battery> Keep running after screen off.
OnePlus Phones
Other Phones / General issues
This app can be installed on the SD Card on phones which support it. If the app is installed on the SD Card, then it is not able to start the scheduler when the phone reboots. If you want to use Scheduled backups, please do not install the app on the SD card.
On older versions of Android, whenever an app is updated, Android removes all its scheduled events and the schedules can only be set again by the app when it is opened. Each time you update the app, make sure you open it at least once after the update to enable the schedule.
Some other "Task Manager" or "Task Killer" app is killing this app, thus making the backup impossible. This is especially a problem if the other app is set to "Auto Cancel" or "Auto Kill" every hour or so. If this is the case, make sure "SMS Backup & Restore" is excluded from the apps which are auto killed.
The app is not able to create the backup file. Possible reasons are:
SD card is not available
SD card is corrupted, or is out of space
Other Issues
Instructions to temporarily fix this problem are here.
Although the app has an option to delete all the messages or call logs on the phone, the only time it does so is when someone presses that button and then also confirms in the dialog to delete.
If you have not done this, then the deletion of messages or call logs is not because of this app. This is also a known problem with some Android phones.
The app has the option to automatically create backups on a schedule. To create the schedule, it needs to check and apply the settings each time the phone restarts.
This is standard for Android phones; the app will not slow your phone down by constantly running in the background.